And what are Gary Harbo's interests and hobbies...?
---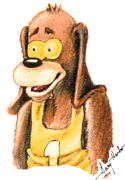 Favorite color: Aqua Blue

Favorite number: 7

Family: Wife (Barb), one daughter and three sons.
Family photos!

Idol: His father, Merle and mother Janet.

Hobbies: Drawing, writing, playing basketball, baseball, football, water-skiing, snowboarding, hiking, and sight-seeing

Favorite school subject: History

Why did he become an author? "I love illustrating, story-telling and especially love to talk to children. The good Lord blessed me to be a big kid at heart."
---
If you have questions for Gary, write to him!

Kutie Kari Books
4189 Ethan Drive
Eagan, MN 55123

If you'd like Gary to visit your school email him at gharbo@garyharbo.com

You may not get an immediate answer because he does spend a lot of time traveling to elementary schools, but he promises to answer as soon as possible!